Posted by
Corrie
on 10:07 PM in
gardens
Alright, now that you've seen the
inside of our house
, I'll show you what we get to see out our window every day. Despite having a small yard, I have to say that I'm in love with my gardens and front porch. One of the things I was most excited about when we starting looking for houses was the prospect of actually having sunny garden space to plant veggies and flowers. Plus, after living in two rentals with covered front porches, I was hoping a covered front porch would be something I wouldn't have to live without. Fortunately, the seller of our house put a lot of time into the gardens, particularly into choosing plant varieties for blooms from spring through fall (more on the gardens later), AND our house has a nice spacious front porch! So apart from the size of the yard, I feel like we pretty much hit the outdoor jackpot.
Just like the indoor tour, I'll show some pics and list some of the projects we have in mind, crossing out the ones we've completed so far. Let's start with the front yard/porch. I forgot to take pictures of it when we first moved in, but it basically looked like a plantless, chairless version of its current self. We haven't done much with it. (I blurred out our address on the front of the house so the whole world doesn't know where we live, hence the blobby parts of the pictures.)
Front Yard/Porch:
Obtain clear cafe string lights for some porch ceiling ambiance
Decorate with potted/hanging annuals - I do have some hanging currently, but not as many as I had hoped
Plant some shade/part-shade friendly perennials in the front yard to cheer up all the shrubbery
Paint wood patio furniture and make new cushions for outdoor seating - partially done. The patio furniture has been painted (stained, actually) but I have yet to redo the cushions, which is why we haven't put it on the porch yet.
Repurpose our old baker's rack as a potting stand - you can see in the lower left picture that it has found its new home - a perfect fit - in the awkward front corner of the porch.
Paint plastic adirondack chairs with Krylon Fusion (plastic friendly paint), possibly light blue.
Replace house numbers and mailbox

Backyard: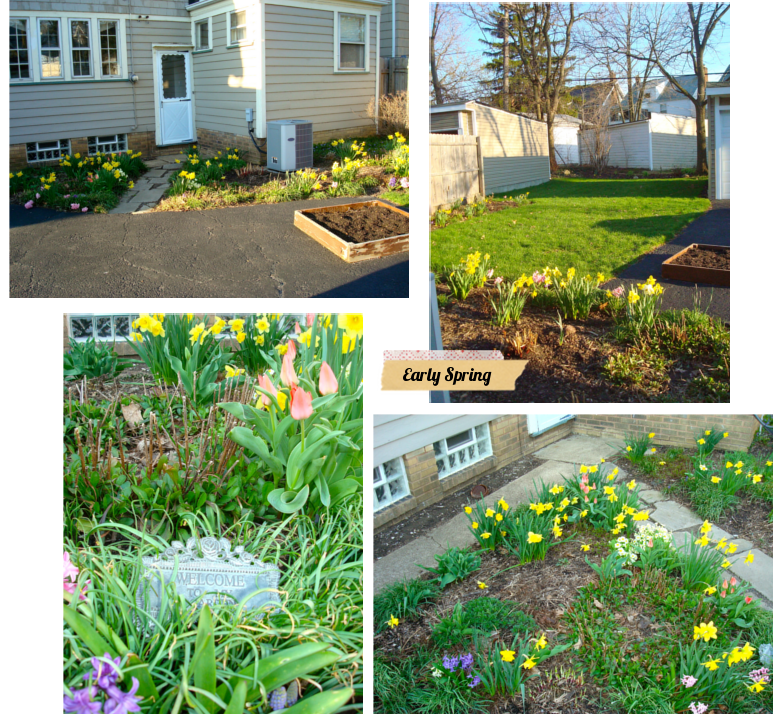 A few things to point out...The wooden box sitting in the driveway is a 3'x3' square foot raised bed. As you can see in the lower right picture, we have two walkways from the driveway that converge at the back door. Unfortunately, they slope downward toward the house, so every time there is a heavy rain, we get about a 4" deep puddle of water under the door which causes seepage in the basement. See our project list below for what we plan to do about it.
But first, let me show you some garden updates. Though there are still a few plants I can't identify yet, here are some of the other things you'll find growing since the first pics were taken in April:
In late spring/early summer...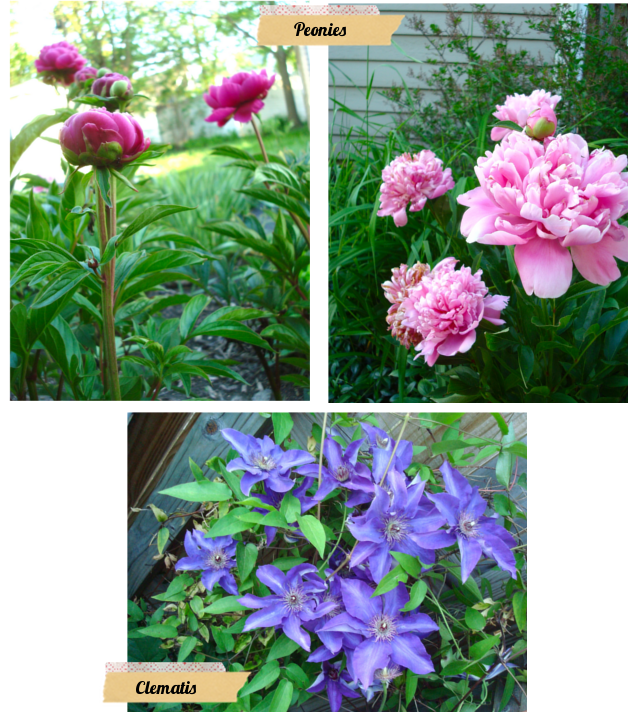 As we hit the hot days of Summer...
Ahhhhh summer...
Oh, right. Here's the yard projects we have in mind so far: 
Install a privacy fence with gate
Fix the pipe/drain issue outside the back door by installing a new drain and regrading the landscape - Temporarily done! I will post on our drain-scapades later.
DIY a cobblestone patio with partial retaining wall
Make earthboxes (giant self-watering planters) for balcony veggies
Plant the square foot garden box - Check! Next up is a garden post about what I planted.
Buy/make window boxes for herbs
Fix garage door, which sometimes doesn't close all the way
Replace back balcony rail to match the front porch
Find something to hide the air conditioner unit - tall plants or bamboo 'fencing'?
And since there are some other things we have on our list that don't really fit into a specific room/area of the house, here are some of the random projects we have in mind:
Enhance existing insulation - our insulation seems to be pretty good, but I'm sure there is room for improvement. We might have to determine that by having someone do an energy audit though
Repair upstairs windows - our windows are all original to the house except for the storm windows that were added on. Some of the weighted cords on the upstairs windows are broken, so the windows don't open as easily as they should.
Buy and install basement supports - One of the things our inspector noted was that there has been some structural shifting over time, which can easily be fixed/stopped by fitting some support posts and beam brackets in the basement
Paint the house and front porch - our seller touched up some areas, but the paint colors don't exactly match well and you can tell. Some of the paint is starting to peel and I don't really like the hunter green anyway so I'm looking forward to changing it.
Paint the front door - I like red front doors, but I feel like that's kind of cliche. I'm thinking something terracotta colored - it's not really red, and not really orange (which is my favorite color, but let's be honest it could be kind of questionable as an exterior house paint choice)

So there you have it! Any suggestions for some great flowering, shade-friendly perennials for the front yard and back by the garage? I would love something purple but I know I can't be too picky. Do you have any plants or flowers that have made a surprise appearance in your yard this year?