Last night I shared the outside tour of our house, which included a glimpse into our ever-changing gardens. Almost all the updated pictures I posted were of the flowers that have popped up - but that's not the only stuff that's growing out there. While some people grow food in their gardens, I grow 'drink accessories.' Just kidding. By drink accessories, I meant herbs, but I grow veggies too. My next post will be about this year's seed starting adventures - my first time trying it! - but I thought I would take a little break from the garden mumbo jumbo and share something you can use, regardless of whether you have a garden.
My overly ambitious, type-A self was hoping to plant a window box full of herbs this spring, but due to all the rainy weather, I only got around to planting basil in the square foot box and two kinds of mint in some containers. These were priority herbs for me because we like to make margherita pizzas from scratch (fresh basil goes on top after the bake), and I often drink mint tea before bed or as a way to settle my stomach if I feel sick or eat too much. Instead of buying prepackaged mint tea, I thought I would do a little 'experi-mint' (yay for bad puns) and try making my own. I started the basil from seed, and planted three containers of mint - one container each of peppermint and spearmint with seeds and two small plants in each (as a backup if the seeds failed), and one container of spearmint completely from seed. This is how the mint started out:
And this is what it looks like now:
Wowzers does that stuff grow fast! (Tip: If you attempt to plant mint in a garden bed instead of its own container, it's advisable to plant it in a bottomless coffee can or other small container, and then bury the whole thing in your garden. Mint spreads out quickly - and I hear is hard to remove - so this planting method will help contain it.) It was even more lush looking before our heat wave last week. Plus I've experimented with some tea already which has made it a little more sparse. Anyway, I've rambled on about gardeny stuff and still haven't gotten to the fun part you can use: a mojito recipe! (Was my 'drink accessories' comment from above a good hint?) We had some friends visiting from Columbus this past weekend and it occurred to me that growing your mint has yet another fantastic advantage. Mojitos. And so ladies and gents, I bring to you my fabulous Garden Mint Mojito recipe, in both pitcher and single glass form, as adapted from a variety of recipes I found on the internet. (The pitcher version was Columbus guest tested and approved this weekend, and the single glass version tested and approved by me after my 27 mile bike ride on Monday night.)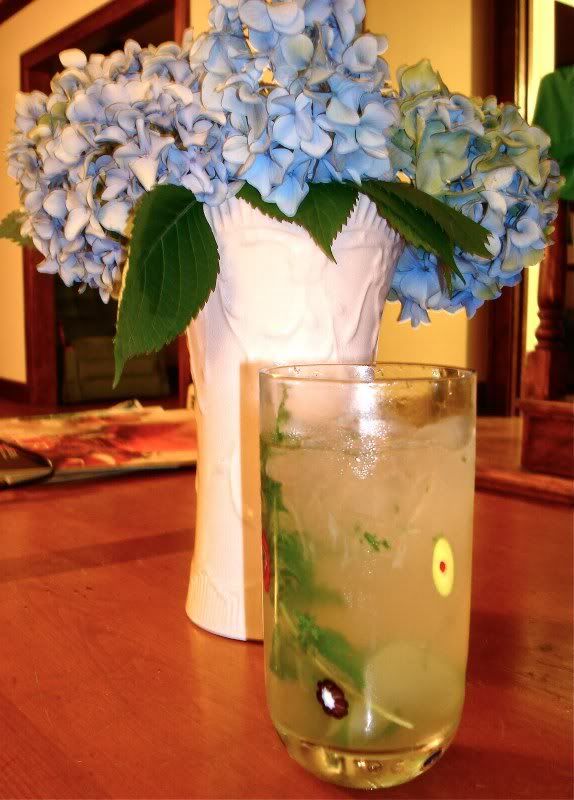 First a few things to note. The key to a mojito is freshness. Fresh lime juice + fresh mint = fresh tasting drink. It's a little labor intensive, which is why I recommend the pitcher version. Although I grow both spearmint and peppermint in my garden, spearmint imparts the more desirable flavor for this drink. If you are buying your fresh mint from the grocery store, it is likely spearmint, so you shouldn't have to worry about getting the wrong kind. I choose to use entire sprigs - stem and all - when I muddle, because much of the minty oils come from the stem and I think it helps create less 'debris' in the drink than using loose leaves. Don't over-muddle. Your mint should not end up in itty bitty shredded pieces. I know the amount of sugar looks like a lot, but it is necessary. Sugar helps cut through the acid of the limes and enhances the flavor of the mint, so you will want to go with the recommended amounts. Lastly, you might want to consider using simple syrup in place of the sugar because it dissolves instantly. I didn't this time because we made them spur-of-the-moment, but I will likely try it next time. Sip slowly and enjoy the way the flavors meld as you drink. On to the recipe...

Garden Mint Mojitos
For a pitcher:
Juice of 8-10 limes (depending upon how large they are)
5 springs of mint, intact (about 10 leaves per sprig)
Scant 3/4 cup of granulated sugar (or about 1/2 cup simple syrup - see below)
1-1.5 cups of white rum (depending upon how rough of a week it's been) - I recommend Bacardi
Chilled club soda/sparkling mineral water
Place lime juice, mint and sugar in a cocktail shaker and muddle, releasing mint oils and dissolving sugar into the juice. If the mint is floating too much in the liquid, strain some out into your pitcher and continue muddling in the shaker. (You can always muddle directly in the pitcher, but mine has an oddly shaped bottom which would've made it difficult.) Strain all liquid and throw some of the muddled-but-still-somewhat-intact mint springs into the pitcher. If you have a clear pitcher, add a couple of the used and abused lime halves for decoration (only if you're optimistic and think the drink will last that long). Fill glasses full of ice and pour the drink over top. Add a fresh, extra mint sprig to each glass for garnish.
For an individual drink:
(Cue George Thorogood's 'I Drink Alone'...anybody? anybody?)
1 whole spring of spearmint (about 12 leaves, intact on the stem)
2 Tablespoons of granulated sugar (depending upon how sweet you like it. Or, substitute .75oz. of simple syrup - see below.)
Juice from half a lime
2 oz. of white rum - I recommend Bacardi
3 oz. chilled club soda/sparkling mineral water
(That's 2 parts rum to 3 parts soda/sparkling water, for those who don't like to measure...which is me sometimes.)
In a tall glass, add the whole mint spring, sugar (or syrup) and lime juice. Gently muddle to extract the mint oils and dissolve much of the sugar. Just don't go too nuts on it. Add the used lime half from the juice you squeezed out and fill the glass with ice. Pour the rum and soda over the ice and stir until the glass is frosted. Garnish with another mint spring if desired. I recommend a straw if you are 'put off' by the mint bits floating around in the glass. (Sidenote: for those who don't like the muddled remnants in their glass,
I think you're crazy.
you can do the muddling in a cocktail shaker and then strain the resulting liquid into your glass with a little mint garnish at the end.)
Simple Syrup:
It's called 'simple syrup' for a reason. It might be the only thing simpler than boiling noodles.
2 cups (or 2 parts) granulated sugar
2 cups (or 2 parts) boiling water
Stir together until clear. Let cool and move to a bottle for easy pouring. And that's it. This stuff can be used in a number of cocktails or to sweeten non-alcoholic drinks like lemonade or iced tea - it really gets around.
Cheers! Let me know what you think if you try them! Any other fun uses you can think of for mint from the garden?
Links to this post