Yes, that was a purposeful misspelling. What I REALLY meant to say was if you're feeling bored with your boards - cork boards that is - I have a fun little project to share with you. Today was Darren's twin nieces' 10th birthday (I can't believe they are already 10! I remember feeling so 'grown up' when I reached the double digits...) and they had asked for cork boards for their bedrooms. Ironically, in my recent browsing around the internet, I had come across some DIY tutorials on fabric covered cork boards, so I thought this would be a perfect opportunity to try them out. Soooo today we are taking a little reprieve from the house tour
because I'm still editing photos
to share with you a fun way to jazz up those old boring cork boards you have sitting around your house.
Cork boards seem to be making a comeback in home decor for both kids and adults as an obviously practical organization tool. But let's be honest. They aren't exactly attractive on their own. Though some of my favorite stores to window shop are currently selling some more stylish versions of the standard cork board, I thought I could do way better on my own in terms of price.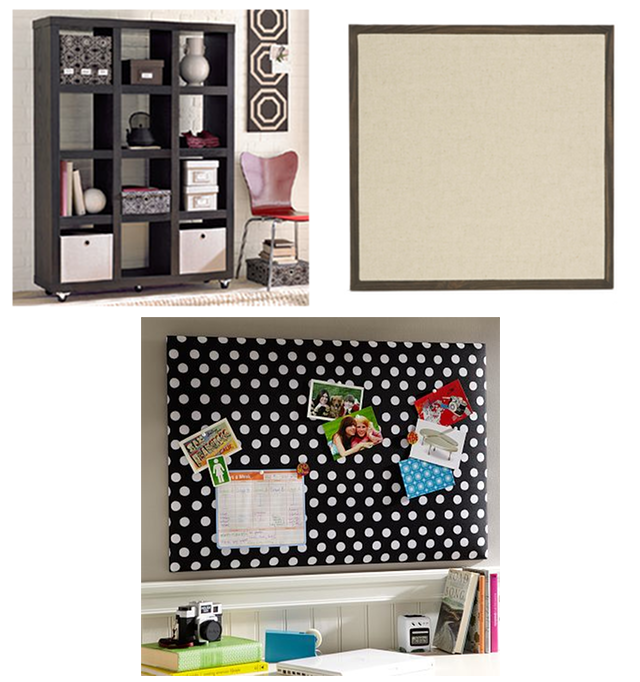 Clockwise: West Elm pushpin canvas board $59 (no longer available); The Container Store Linen Bulletin Board 15" $29.99; PB Teen White Dot Post-It Pinboard 24"x36" $79 (on sale $69)
Knowing the girls wanted the kind of board you use push pins with - instead of a memo board which typically has criss-crossed ribbons that you tuck things under - I browsed around the interwebs for some different tutorials. What I ended up doing was kind of a mix of a few different methods.
First, I dragged Darren with me to Joann Fabrics
since he was footing the bill
to help me pick out fabrics that would be fitting for the twins rooms. Despite being twins, the girls have very different personalities and interests so I didn't want to make matching boards. They also have their own rooms - which they have recently started redecorating from what I understand - so I wanted to pick something out that still reflected their girly sides but was a little more sophisticated now that they are getting older. Although the new decor for their rooms would incorporate a number of colors, one of the girls loves pink, and the other purple.
We scanned through the sale section first and narrowed it down to two fabrics, which were each $2 off per yard.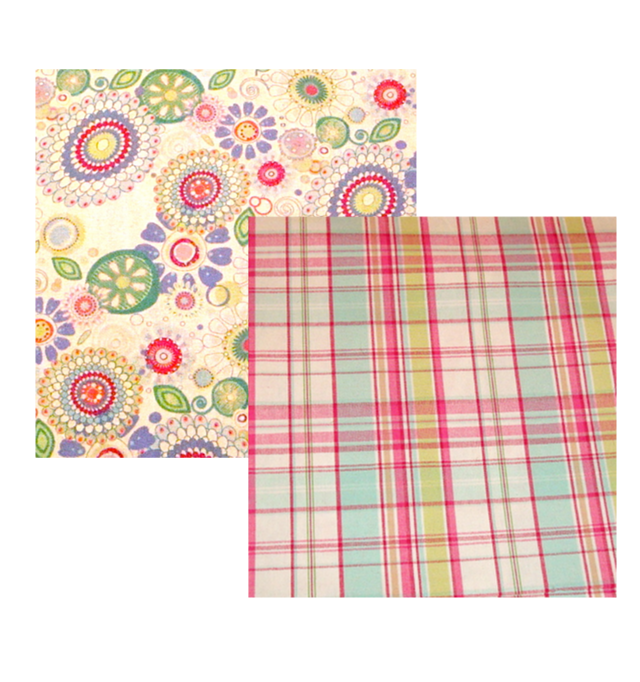 Since each fabric was 42" or more in width, and our cork board dimensions were only 17"x24", we knew that only half a yard would be plenty of fabric. (I realized later that a quarter yard - or a 'fat quarter' in fancy sewing terms - might be enough of some people, but it would've been just barely too short to cover our boards. Fat quarters are often sold in precut bundles and are very cheap.) After grabbing our fabrics, we went off in search of paint for the frames and ribbon for the trim. Since the fabrics we chose had similar accent colors - light blue and pale green - I decided to paint both frames light blue and use pale green ribbon around the edges of the cork. This turned out to be more cost effective because I only needed to buy one small bottle of paint and one roll of ribbon to put together both boards (instead of different ribbon and paint for each one). When we got home, my set up looked something like this:
My supplies were fabric, the cork boards, paint, a dish for the paint, ribbon, a foam paintbrush, spray adhesive, Fabri-Tac (a fabric glue), scissors, a knife, a fabric cutting mat and fabric cutter. Since I was doing this on my glass top dining room table, I laid down a bunch of newspaper first so I didn't end up with a painty gluey mess all over the place. (Well, I had a painty gluey mess anyway, but at least it was on newspaper and not on my table.) I painted the frames first and didn't worry about being too careful not to get paint on the cork since it would be covered anyway. They took 3 coats of paint each since the wood frames had some sort of shiny finish on them that caused the first couple coats to look a little streaky. I might take the time to sand the frames a bit before painting next time, just to roughen them a tad and make the paint adhere better. And so far we have this: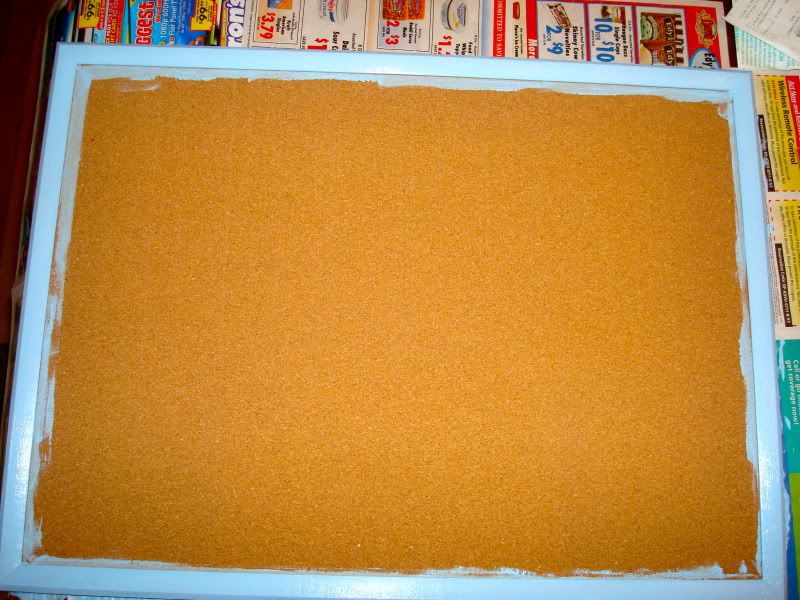 Let's pretty it up. I laid my fabric right side down on the cork board, took a pen, and traced just barely wider than where the cork meets the frame. Very technical measuring, because I'm a very technical person, obviously. Then I use my fabric cutter and mat to cut along the lines I had traced. You could use scissors for this, but a fabric cutter is much quicker and cuts a clean straight line. At this point, I have to be honest and tell you that I got too fancy for my own good on the first board and attempted to tuck under all the edges by gluing a faux-hem with the Fabri-Tac so the fabric would have nice clean edges in hopes of perfectly aligning with the wood frame.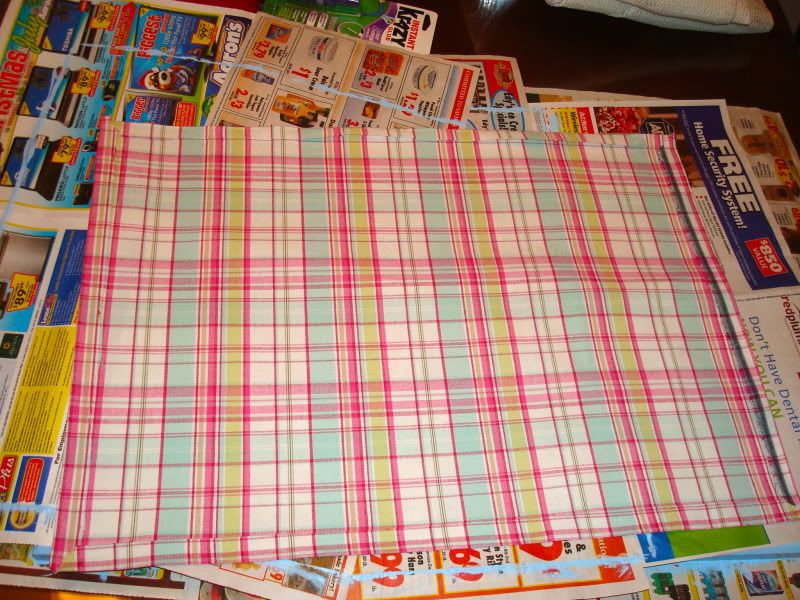 Then I came to my senses, got over my type-A personality (momentarily) and realized it wouldn't create a perfectly gapless seam between the frame and fabric. I was wasting my time. No matter how hard I tried, there would always be a little sliver of cork showing through near one of the edges. So, with the fabric still turned right side down, I sprayed the entire back generously with adhesive spray then carefully align it on top of the cork. (Warning: do this away from the cork boards and anything else you don't want to end up with a sticky film all over it when you are done spraying.) Starting from the center ad working outward, I smoothed the fabric so there were no bubbles and creases. Any edges that might not have been sticking well got a little Fabri-Tac treatment to put them in their place. Since there were inevitably some places where the fabric was slightly overlapping the wood frame, I took a knife and tucked the fabric under the frame to secure it for a nice clean look, being careful not to pucker the fabric as I went along.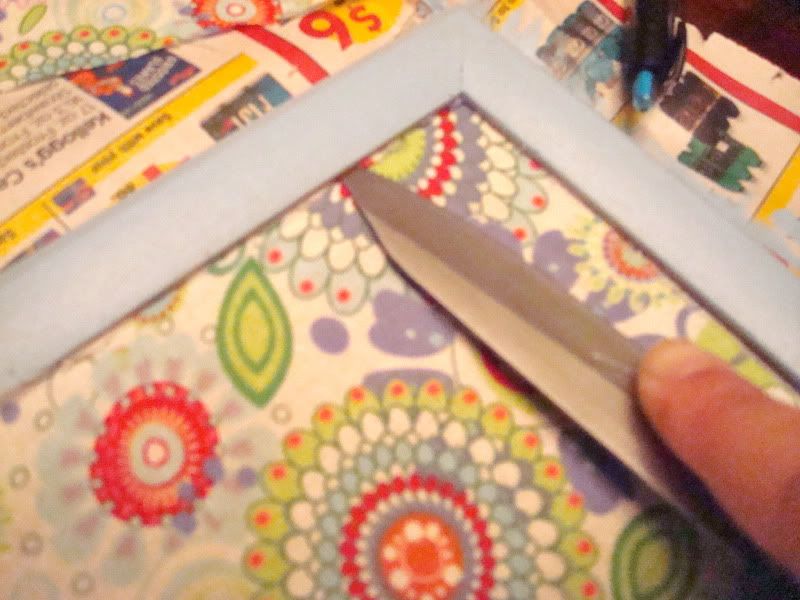 The final step was to cut the ribbon to fit along the cork on the inside edge of the frame. This serves a dual purpose of looking cute and covering and messy looking spots along the edges. Tricky, huh? I cut each end of the ribbons at an angle so that they would align together in a nice neat little corner then glued it all down with Fabri-Tac.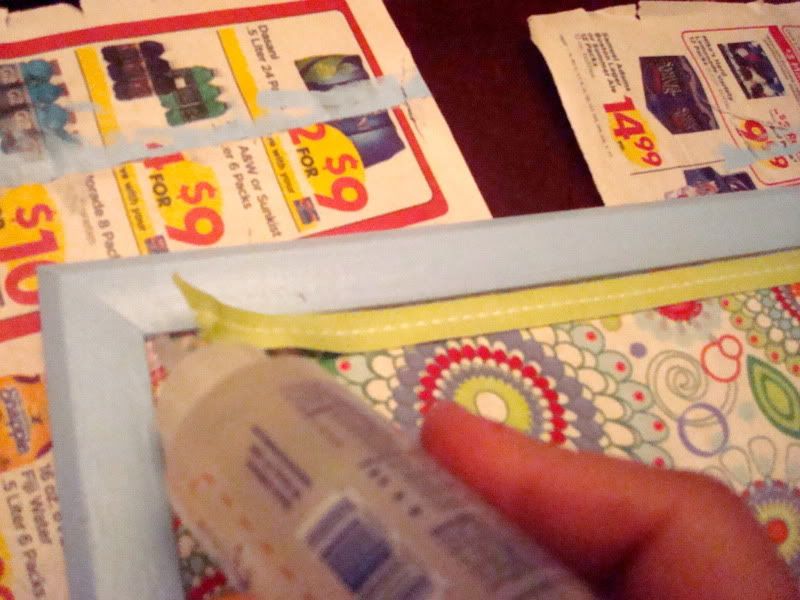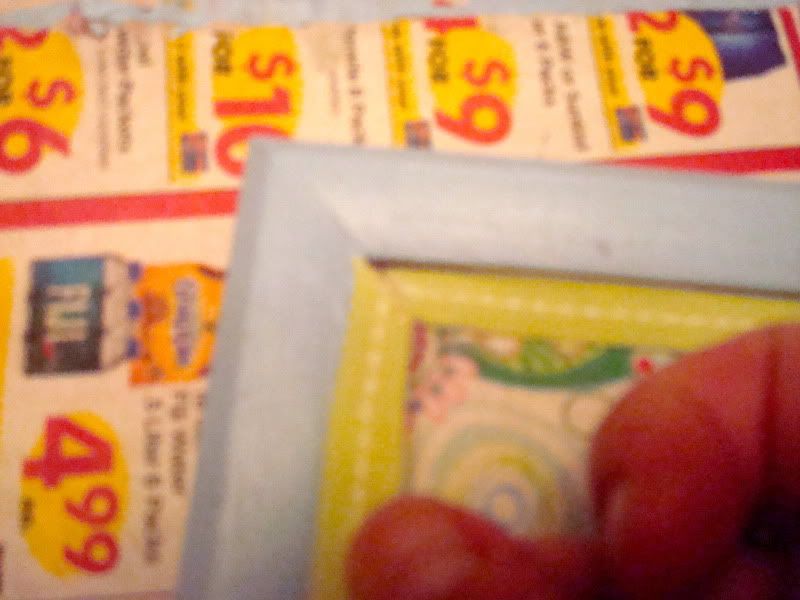 Done and done. Two fabric covered bulletin boards completed in one evening. I even had a little extra time before bed to make big tags with the girls' names to attach to the packages as a way to spruce up my cheap-but-slightly-less-than-exciting wrapping paper.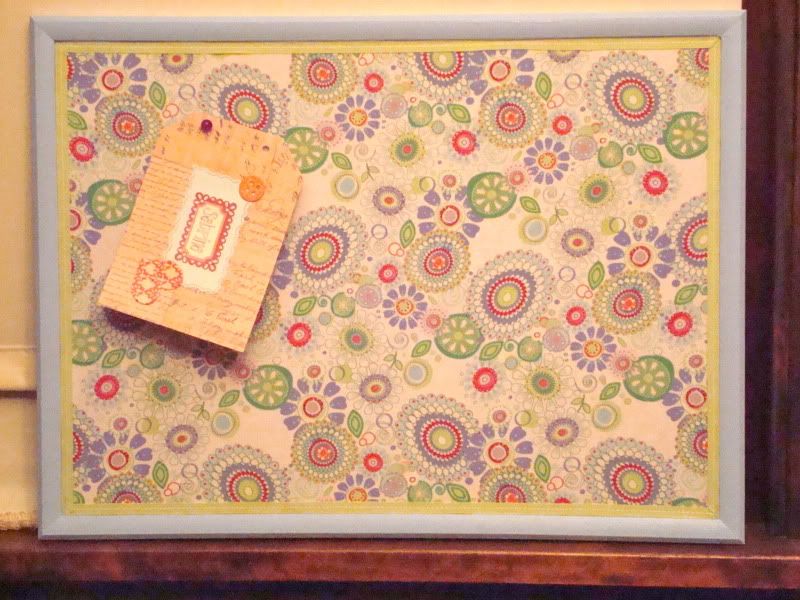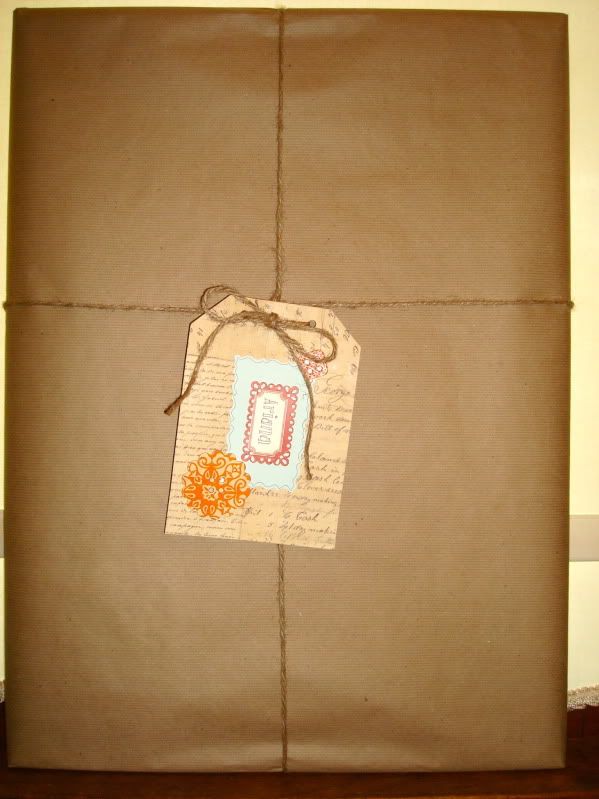 The plaid one is for A, who is a little more sporty, and the flowery one is for S, who is a little more artsy. They were really excited when they opened their gifts at dinner last night, and the look on S's face when she said "you MADE this?!" was priceless. I hope they enjoy having something unique and functional for their rooms, and especially that they get a lot of use out of their cute little corkboards (with push pins to match). In fact, I'm thinking we could use some of these in our office...Maybe I'll make a couple 'grown up' versions for Darren and I to hang above our desks. Perhaps with burlap or linen or something...the wheels are already turning...
Oh, but wait. The final cost? Less than $30 to make BOTH of the boards, and that included an extra roll of ribbon I didn't use, as well as the Fabri-Tac which I can use for future projects. Compare that to the ones I found above and we ended up with way less expensive gifts that are personalized to each girl's tastes. Score. Personally, I think they're even cuter than the ones I found at PB Teen. But I guess I'm kind of biased because I made them.