Posted by
Corrie
on 6:31 PM
While you were out...er, I mean...while *I* was out -- away from blogland for extended holiday celebrations -- we made a number of exciting upgrades around the house. The main one involved adding additional electrical boxes to our half bath so that we could install a wall mounted light and corresponding switch (more on that later.) We also installed an additional cabinet in the kitchen (more on that to come too). Lastly, there are a couple things we tweaked in our living room that I'm pretty excited about...and those are what I'm going share with you today! Maybe you won't find them blog-worthy, but I was able to get some good deals and I feel like they've helped brighten up the space a bit.
Last you saw, my living room probably looked like this:
Womp womp. Dark. Mismatched. Unexciting. Even Remy looks depressed about it.
While I am very grateful for our free aka hand-me-down couch, I've never been a fan of it's dark green color and it has become a little worse for wear. As you might have guessed, we don't have money to buy a new one anytime soon, nor is it high on the priority list. The table lamp in the corner with the freakish lighting effects, which was leftover from Darren's college apartment days, has always gotten on my nerves as well. It's our primary light in the living room because we don't have any overhead lights and it's closer to the couch than our floor lamp. Don't be fooled by it's unnatural glow in this picture. The lamp is too small and barely gives off enough light to be able to read at the other end of the couch. Apart from it's lack of function, it's way too modern for my taste.
Soooo, here's how we fixed things up a bit:
Cue heavenly dream sequence, choir gloriously singing, "ahhhh!"
I had been stalking slipcovers pretty much since the day we moved in, but the average price I was finding for a basic, two-piece/separate seat, fitted slipcover was $120. Regardless of which store/site I ordered it through, I knew that any place would tack on almost $20 to my order in tax and shipping...meaning $140 for the average slipcover. The Sure Fit brand had a lot of good reviews, but despite signing up for email coupons/sales, prices never came to $100 or less with shipping. Target, Macy's, Amazon, and Overstock all carry the brand, so I was sure to keep an out out online and when I happened to be at the store. The specific slipcovers I had my eye on were the Cotton Duck Cloth 2-piece slipcover and the Twill Supreme 2-piece slipcover. Both offer a separate cover for the seat cushions, which gives more of a custom look, and both are machine washable, which is very important because we have a large dog and do a lot of eating on the couch.
Finally, in December, Macy's had a big home decor sale, which included their slipcovers. Not only was the Twill Supreme slipcover on sale, but so was a fancier, more expensive version that had Scotchguard in the fabric. The Scotchguard version was normally retailing for $200, but with promo codes and the home decor sale, it was only going to cost me $84.99 before shipping! Not only was that a good price for any 2-piece slipcover, but an AMAZING price for one that has 'stain-proof' fabric!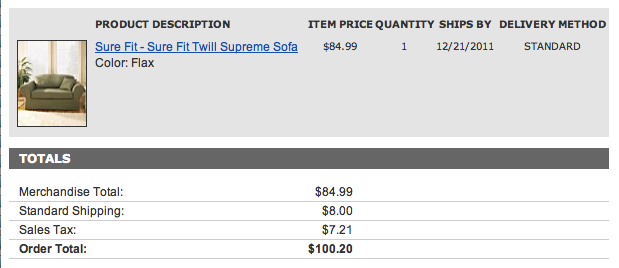 As you can see, the final amount came to $100.20. It felt like a steal! Shipping only took about a week, and the day I received it, I immediately washed/dried it and put it on the couch. I was giddy with excitement about how much it brightened up our living room (accompanied by
the pillow covers I made
awhile back)!
Ok, maybe it doesn't look very bright in that picture because I took it at night, but the slipcover is a nice neutral color. After 2 months of living with it, I'm happy to say that any food spills have wiped off without a problem, and the dog hair is easy to vacuum off as well. We haven't had any problems with the slipcover shifting either.
My other little bonus buy, with the help of a $15 TJMaxx gift card I received for Christmas, was this handsome lamp for $35, which replaced the old modern slacker we had next to the couch.
Even Target, where I found a similar lamp, couldn't match the price of this one (the lamp bases alone were $35 at Target, and drum-style lampshades were $16). It's much taller, the shade is bigger, and it has so much more interest than the old one. I only wish I had a close up picture of the old one so you can see the comparison. Actually, I'm not all that sad that there isn't a picture. You're not missing much. Darren happened to come home from basketball right as I was making the lamp switch-a-roo, which meant that he was right in time to witness the 5 minutes of happy dance that ensued when I turned the lamp on. I said, "Aren't you EXCITEDDD, Darren?!" He responded, "I guess I just don't get that excited about lamps."
You also may have noticed from the pics that we made another upgrade - the rug under the coffee table. This was another exciting steal-of-a-deal that we got back in July. I wanted something 5'x8', durable, soft and with natural fibers. Plus, I tend toward buying indoor/outdoor rugs because they hold up well to Remy's and our foot traffic, they are durable and easy to clean, and they don't have loops that get caught around Remy's nails when she's playing. Jute was a choice that fit all of these things. However, most 5x8s are around $150 and up. I lucked out and found this guy on Overstock, with great reviews, for $80.99. Thanks to Overstock's cheap shipping, regardless of weight, the rug was still a great deal.
My favorites things about it, after living with it for over 6 months, are that it's soft, double-sided (meaning we can flip it over for even wear), and that all dirt and most of the dog hair falls right through it. I'm not even kidding. I would have taken a picture when I used the shop vac to sweep underneath it last week, but it would be embarrassing for me to show you how much dirt and dog fur accumulates underneath when the top of the rug looks like it's staying so clean! I'm thinking of replacing the other living room rug, which is patterned, with second jute rug so make the room look more like a unified seating area. As much as I dearly love the patterned one and its cheerful colors, I feel like it breaks up the room too much. What do you think? Here's Remy attempting to model the rugs for you.
Oh, and just in case you were wondering, we didn't upgrade Remy. That girl could never be upgraded. Best doggy we could ever ask for. (Her stuffed dog from the first pic, however, has been downgraded to various pieces parts, and most recently, to the trash can.)
And no, we didn't make her lay in essentially-the-same-spot as last time. She did that all by herself. I guess she felt that you needed her in the pic for an accurate comparison to the original living room picture. I'm just sad she didn't cross her front legs like a lady, which is how she usually lays. She mentioned something about not wanting to look like she was trying to hard...
So there you have it. Total cost for new rug, new slipcover and new lamp = $216.19. These items would've cost me around $400 if I had not bought them on sale, or even at other stores. That's almost $200 I saved! Hooray!

Maybe you think it's a little silly that I'm SO EXCITED about these little improvements. But when you don't have much money to spend, when you realize you can't just re-do a room all at one time, but that you will have to prioritize and save piece-by-piece...when you have to wait very impatiently, watching an item for months, hoping the prices will fall...watching sales go by, thinking "gosh, I should just get it already even though it's still more than I want to pay...but it IS on sale!...but what if that's as far on sale as it's going to go?"...well, you end up celebrating each great-deal-on-a-purchase as a little victory. And it seems that each item in your home gains more worth in your eyes because you worked hard to save the money for it. You struggled to make the smart decision by rejecting your credit card and waiting until you could afford it. And you end up not just purchasing a meaningless, yet functional object to put in your home, but gaining an appreciation for everything you've come to own. Not saying that someone who has the money can't appreciate a lamp or slipcover they purchase right when they need it, just that when you are forced to save and budget-shop, there is a whole new level of appreciation for what's in your house and every decor upgrade feels like a little victory. Why not celebrate the little victories? Maybe i'm getting too sentimental about my household objects, but when I am forced save and wait to get something even as silly as a lamp, I feel a greater pride in the things I own, and I don't think there's anything wrong with that!

Any big purchases you've made lately that you're excited about? Maybe even something you've been waiting to get and finally were able to with the help of some holiday gift cards? Do share!