Posted by
Corrie
on 11:02 PM

Oh man, you guys. I am sooo embarrassed. Like, walked-in-on-in-a-public-bathroom-stall embarrassed. (Which actually DID happen to me at work last week...Awkward.)
It has been 2 MONTHS since the last time I blogged! I hope you haven't given up on me. I hope you didn't think I forgot about you, because I haven't. I can explain. Really.
It's not that I haven't had things to blog about- because there are lots of things! It's really because the holiday season has basically lasted 2 months for me this year. Two craaaazy, family-fun-filled months. It started around the time of my last post, when I was preparing a ton of items for our office's craft show (my first show ever). I made
fabric covered bulletin boards
, baby headbands and pacifier clips (a post on those later), and planned to take orders for those items, plus
customized LOVE prints
. It was a LOT of work. I ended up selling a number of things, plus I received orders for four LOVE prints and four bulletin boards of different sizes, due by Christmas. Work began on those, during which time we were traveling to my grandma's house in Toledo for Thanksgiving, then a day trip to Wooster to cut down our Christmas tree. Then throw in beer brewing and other preparations for our 2nd annual holiday party the weekend before Christmas, plus Christmas shopping. In the meantime, my office of 300+ people was preparing to move to a new building over Christmas weekend. Being that my department facilitates the offsite storage of our files, we were basically bearing the brunt of people trying to get rid of 20+ years of stuff. I was in the office on any Saturday that I didn't already have plans, plus occasionaly working late one day per week.
On Christmas Eve, we became the third generation to host my family's traditional pork chop and pierogi dinner for about 11 people.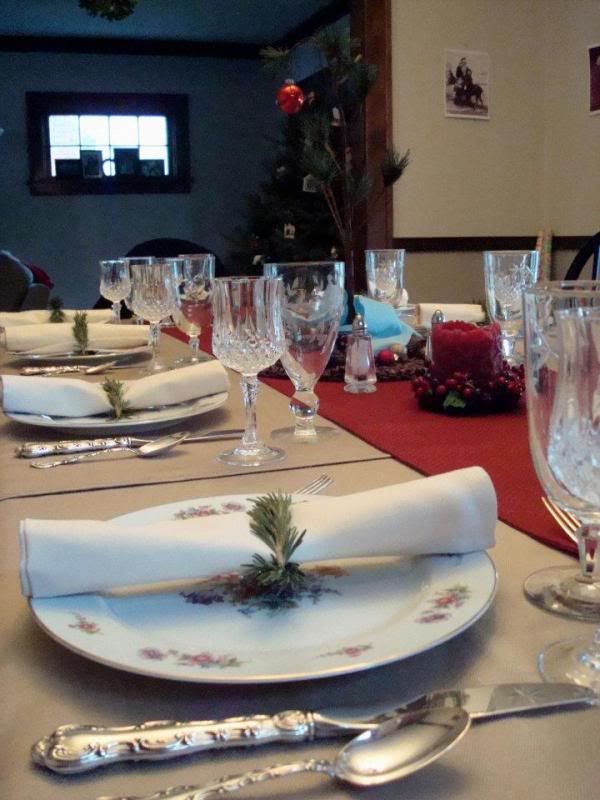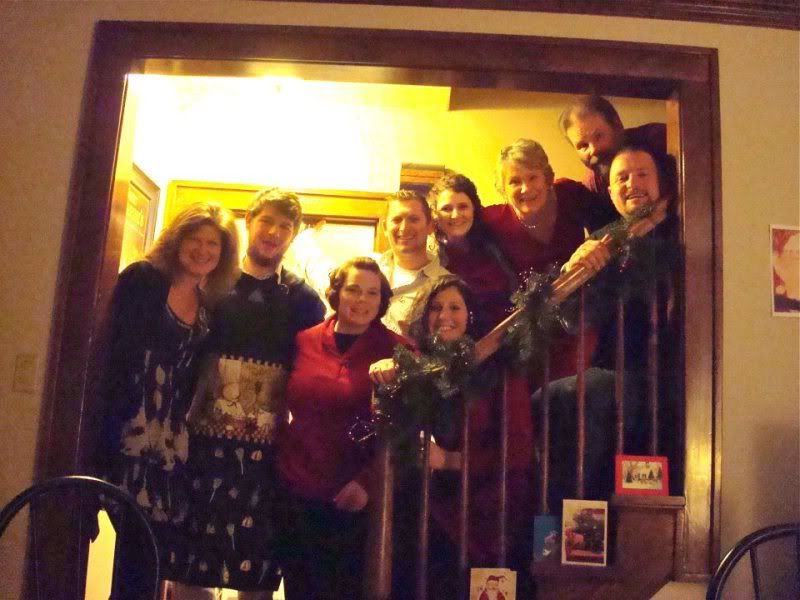 Photo taken by my 5 year-old cousin, Maeve.
The following days were spent running between my dad's house and my mom's house celebrating Christmas, followed by the arrival of my brother, Joe, on December 28th for his 3-week Navy leave from Japan - the first time we had seen him in 14 months!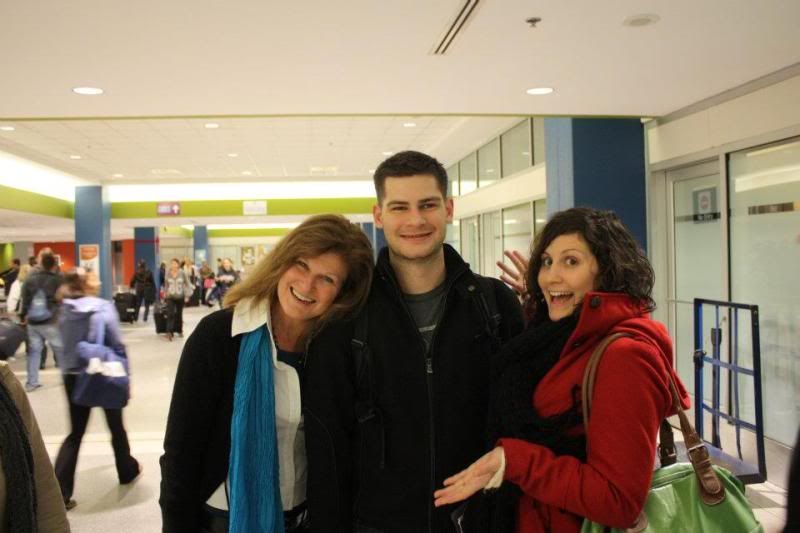 We met him at the airport and then had a little gathering at my mom's house to celebrate. A few days later came a hospital visit after the birth of my friend Emily's first baby, New Year's Eve fun with some friends, plus traditional New Year's Day dinner with my dad. At work, we were officially in our new building, but still dealing with areas under construction plus some issues with an employee. The weekend after New Year's we spent celebrating my youngest brother's birthday, which brought us into the second week of Januray. Darren and I had planned a Thursday through Saturday getaway for our 8 year dating anniversary (our Christmas gifts to each other) at a cabin in Millersburg, Ohio, which was a lovely, relaxing time, sans technology, despite some yucky weather. The Saturday we returned, we had planned to have a 'redo' of Christmas Eve dinner so that Joe could enjoy it with our immediate family. Given that some of our other in-town extended family had been out of town for the original dinner, this ended up being another 11 person event. All three of my siblings ended up staying at my house from that Saturday night through MLK Day, so we had quite an extended weekend. It was nice for all of us to be together again right before Joe returned to Japan on Wednesday, even though Darren and I were able to sneak in one more evening with him by having dinner at my mom's house on Tuesday.
On Thursday, the day after Joe left, we had more house guests arrive! My cousin, Anna, and her husband, Bill, from Maine flew in with my cousin Alaina (Anna'a sister) from Vermont for a Cleveland visit. Most of our Cleveland relatives hadn't met Bill yet, and none of us had seen Alaina in 16 years! Thank goodness for Facebook, because Alaina and I had been able to reconnect over the past couple years and discovered how remarkably similar we are. I joke that she's my "sister from another mister." (You know, like "brother from another mother"...but for girls.)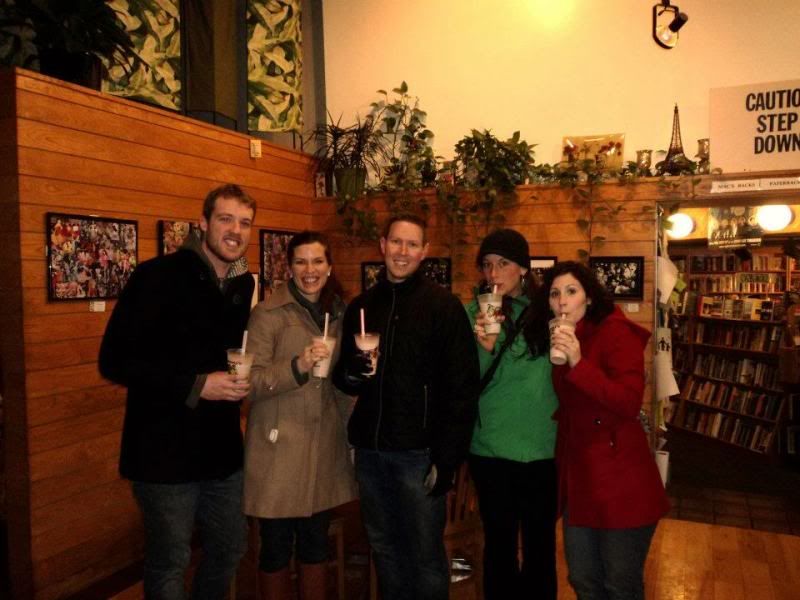 Anyway, my dad and one of my aunts joined us all for dinner at my house to celebrate the cousins' arrival. Darren and I had to work on Friday, so we left Anna, Alaina, and Bill with some suggestions for fun places to visit and they did some exploring. We had a cousin get-together with some in-town cousins that night and then had a big family gathering on Saturday at my aunt Cathy's house. It was such a fantastic time and felt as though Anna, Alaina and Bill had been with us all these years, despite the distance.
With a week to recuperate and get my house back to normal, that brings us to now! PHEW! So, now that I got that recap - which you probably didn't care about - out of the way, let me leave you with some outtakes from our Christmas card photo shoot, just so we can all get one last little taste of the
belated
holiday spirit before Valentine's Day is upon us....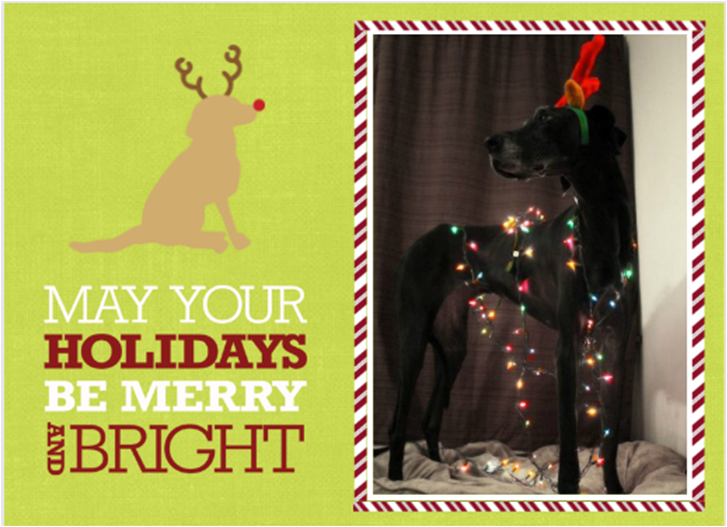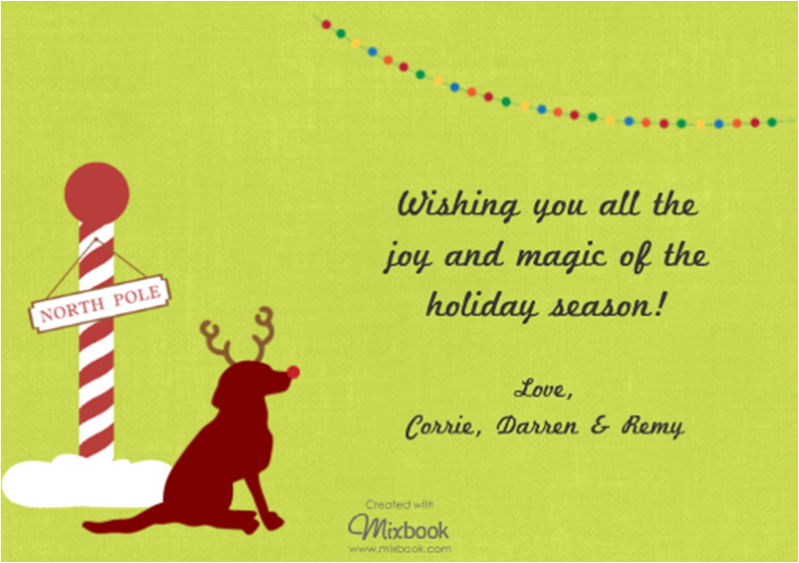 Don't worry. This was not torturous for Remy at all. In fact, my mom and I had plenty of shredded chicken to feed her and she was quite content to tolerate our shenanigans as long as the chicken was available. (Card was created by me using various pieces parts on
http://www.mixbook.com/
)
Links to this post